TECHNICAL SPECIFICATIONS

For Use With:

Edge Guide Power:

+15VDC (± 10%)

Pneumatic Linear Cylinder:

10 - 4,000 mm Stroke
25 mm Piston Dia.
PPV: Pneumatic cushioning adjustable at both ends
Heavy-duty guide
positive-locking (slot) drive
double-acting op mode
IP65

Framework:

6061 x 19.05mm Aluminum

Web Auto Guide:

Yes

Web Break Sensor:

Sensing Range:
Supply voltage:
Current consumption:
Output:
Emitting element:

0.1 to 2 m Sensing Range
10 to 30 V DC RPP 10 % or less
55 mA or less
NPN/PNP
Infrared LED

Air:

2 - 8 bar working pressure

Ambient Temperature:

40 to 160° F (4 to 70° C)

Machine Process
Speed:

10,000 fpm (3,048 m/min)

Maximum Web Speed:

N/A

Dimensions:

Custom Made to Process

Weight:

Based on overall Project

Specifications are subject to change without notice.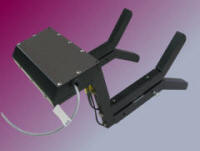 Model 4000 AutoTrack®:
The Model 4000 AutoTrack® Technology is an advanced automatic web guiding and tracking system designed so our customer can adapt edge mounted quality assurance, control and analytical monitors and/or components to facilitate complete automation. The technology incorporates high tech electronic edge sensors, controls and rodless cylinders which provides the ability to automate any technology to advance/retard into inspection mode eliminating operational intervention and ensuring the quality control components are "ONLINE" 24 hours a day or when needed. This system frees up operational staff to perform their duties relative to production without the need to "REMEMBER" to place sensitive monitoring systems back online upon web threading. The technology can be applied to all equipment made by R.K.B. OPTO-ELECTRONICS and any competitive or non-competitive inspection, sensor or process system supplier.
Tracking Made Easy:
Our AutoTrack technology utilizes pneumatic and electric drive technology. Compact linear drives with or without guide(s): mechanically coupled cylinders with optimized mounting options for simple mounting and magnetically coupled cylinders for use as a pressure tight and zero leakage system are all considered when it comes time to AutoTrack your machine vision, analytical or inspection device. Low space requirements, high precision and load capacity and reliable service life of up to 40,000km will facilitate just about any application where control automation should be applied. These easy to install and highly reliable cylinders and durable, yet glide with ease to ensure the most sensitive components are handled with care.
Minimize Operator Intervention:
The AutoTrack unique web edge tracking capability is derived from custom sensing arms that provide process functions to advance/retard automatically. The arms, precision machined will not damage sensitive web materials and are made of light weight aluminum. Our web break sensor that provides the "Web On" / "Web Off" signal will facilitate the advancement and retraction of your device. Our unique edge tracking ensure your inspection device will follow the web and will always be located in the sweet spot for reliable detection. What operational staff once had to remember to do prior to production runs is now a moot point. In short, operational intervention is no longer needed to ensure you quality monitoring device is doing its job.
Respond to Changing Conditions:
The Model 4000 AutoTrack Control solution will respond to changing conditions such as deckle (web width) changes automatically to ensure your inspection devices are always placed in the correct inspection area. By receiving a signal from the center of web mounted web break detector, this technology will always be online unless a web break occurs or scheduled maintenance policies are initiated. No adjustments, settings or re-calibrations are required. Our AutoTrack is unaffected by material types, calipers, process speeds and ambient lighting. Special markings are not required and the operation is unaffected by printed material.
Demand Proven Performance:
Working with designers and manufacturers for more than 50 years to increase manufacturing productivity, R.K.B. OPTO-ELECTRONICS continues to advance the state of industrial automation with proven innovations, customized design solutions, and exceptional service worldwide. Our experienced engineers provide complete support from start to finish, including: conceptualization, analysis, engineering, design, assembly, documentation, validation, and production. Innovation and maximum productivity in industrial and process automation – from single products to the turnkey solutions is the key in today's competitive web based manufacturing industries. For the success of your business turn to our AutoTrack and take the worry out of non-compliant inspection issues.
Contact R.K.B. Today:
Call us today @ 1-315-455-6636 to discuss your web inspection applications and to learn more about the industry's most complete line of web inspection related products.