TECHNICAL SPECIFICATIONS

Software Specification:

Ancillary Systems:

Model 1290

Defects Types Detected:

Creases
Lumps
Splices
Wrinkles
Other Elevation Defects

Min Detectable Defect:

0.001" (0.025 mm)

Sensitivity:

Adjustable

Sensitivity Range:

100 to 1

Web Material Texture:

Smooth

Inspection Increments:

15.24 cm/sensor
2 Light Gates/sensor
Gates 10cm Long

Maximum Inspection Width:

Unlimited Through
Side By Side of
Head Units

Contact Head Pressure:

2 ounces/inch
56 grams/2.54cm

Maximum Web Speed:

457 m/min

Outputs:

Standard:

Optional:


Audio/Visual Alarm
9-12 VDC Pulse
Reject Control Output
Edge Marker Output
Counters

Illumination:
Proprietary

Ambient Temperature:

40 to 160° F

4 to 70° C

Power:

120/220/240 VAC
50/60 Hz
Single Phase

Specifications are subject to change without notice.
Detect Elevation Defects:
Our Model 4010 Crease and Lump™ Detection Technology is designed to detect creases, lumps, splices, and other types of elevation defects in moving webs of material. Because of their mechanical construction and operating principles, these detectors can be used in a wide variety of web inspection applications.

Monitor All Materials:
Choose our Model 4010 Crease and Lump™ Detector for on-line monitoring of metallic and nonmetallic papers, plastics, foils, films, textiles, and other types of web manufactured materials. As elevation defects are encountered, an inspection roller in the device momentarily looses contact with the web material allowing light to reach a photocell for defect detection and subsequent control of processing equipment.

Automatically Adjust To Changes:
Sensing heads in CLDs use patent pending and proprietary low pressure roll technologies to prevent damage to the web material during inspection. Each sensing head is self-compensating and self-aligning allowing the detector to automatically adjust to changes in the type or caliper of web material.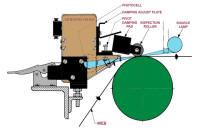 Span Any Web:
Our Model 4010 Crease and Lump™ Detector uses modular sensing heads with two 10 cm long rollers to provide a 20 cm wide inspection capacity. These sensing heads can be combined, side by side, to span any web width required for your application.

Contact R.K.B. Today:
Call us today @ 1-315-455-6636 to discuss your complete machine vision imaging application and to learn more about the industry's most diverse line of machine vision web inspection, hole detection, splice detection and control products.