TECHNICAL SPECIFICATIONS

Software Specification:

Ancillary Systems:

Model 1290

Defects Types Detected:

Min Detectable Defect:

1 micron

Max Detectable Defect:

Unlimited

Maximum Web Speed:

3048 m/min

Basis Weight Range:

Subject to Tests

Material Color Range:

Subject to Tests

Line Scan Cameras:

Type:
Lens Focal Length:
Field Of View (FOV):
Pixel Resolution:

512/1024/2048
25/50 mm
0.1" (2.54 mm) Min.
0.0001" (0.0025 mm) in CD

Material Color Range:

Unlimited

Illumination:

Proprietary

Ambient Temperature:

40 to 160° F
(4 to 70° C)

Power:

120/220/240 VAC
50/60 Hz, Single Phase
3 -10 KW

Specifications are subject to change without notice.
Maximize Profitability:
Undetected defects often result in excessive costs, customer returns, repairs to sensitive equipment, and machine downtime in today's high end high web based material manufacturing. This is ever more apparent in specialized products like magnetic media, solar and fuel cell technologies. The Model 9000® MicroSpec™ Web Inspection Technology provides real time detection and categorization of minute holes, microscopic pit-form (block spot), cracks, dirt, blemishes, cyclical embossments and any other autonomous type impurities or defects. The Model 9000® MicroSpec™ helps maximize the profitability of your manufacturing process by providing production, maintenance, and setup personnel with immediate notification of critical defect faults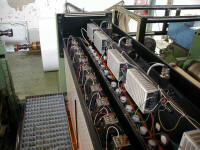 Detect and Index All Defects:
The Model 9000® MicroSpec™ Web Inspection Technology uses an array of high speed CCD Line Scan cameras and custom designed lenses. The sensors are usually positioned with small fields of view, approximately 6.35 mm, cross direction. Each sensor has a proprietary light enhancement module designed to illuminate and enhance the area of inspection so that the defects pop with significantly higher signal to noise rations than conventional systems like laser or photocell can provide. The electronic signal is then processed in patented RKB noise reduction circuitry providing unprecedented performance in a single web inspection system.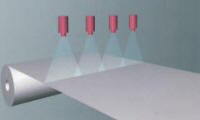 100% Inspection Coverage:
Each Model 9000® MicroSpec™ Web Inspection solution is designed to span the entire web width for 100% inspection of the web material. Now products can be fully qualified prior to shipment to customers. Our QAMS® Quality Assurance Management System software is also included with each system to provide complete data collection, analysis, reporting, setup, and diagnostic capabilities
Contact R.K.B. Today:
Call us today @ 1-315-455-6636 to discuss your complete machine vision imaging application and to learn more about the industry's most diverse line of machine vision web inspection, hole detection, splice detection and control products.